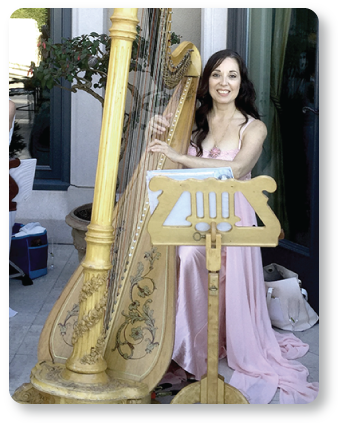 About
PROFESSIONAL HARP EXPERIENCE
Over past 30 years:
Hotels:
Vancouver Fairmont Hotel (regular harpist for Xmas High Tea since 2007), Westin Bayshore Inn, Waterfront hotel, Pan Pacific Hotel, Renaissance hotel, Sheraton Hotel, Chateau Whistler, Wedgewood Hotel, Sutton Place Hotel, Hyatt, Listel Hotel, Terminal City Club, Vancouver Club, Delta Hotel, Hilton Hotel, Coast Plaza Hotel, Four Seasons Hotel, Best Western Hotel, Pacific Landmark Atrium, Executive Hotel Richmond, Holiday Inn, Ramada Inn, Grand Villa Casino, River Rock.
Special Event Places:
Vancouver Museum, Brock House, Cecile Green UBC, Hart House, Stanley Park Teahouse, Rowena's Inn, Vancouver Yacht Club, Stanley Park Rose Garden, Vancouver Rowing Club, Vancouver Aquarium, SFU Diamond Club, Burnaby Mountain, Minnekhada Lodge, Hycroft Manor, Crofton Manor, Vandussen Gardens, Queen Elizabeth Park, Oakridge Mall, Sinclair Centre, Denman Mall, Croatian Centre, Carousel Cruise Ships, C Restaurant, River Rock Casino Richmond, and others.
Golf Courses:
Westwood Plateau, Vancouver Golf Club, Shaugnessy Golf Club, Capilano Golf And Country Club, Newlands, Swan-e-set Golf And Country Club, UBC Golf Club, Furry Creek Golf Club, Mayfair Lakes, Northlands Golf and Country, and others.
Churches and Chapels:
Minoru Chapel, Shaugnessy Heights United, St. Peters, St. Mary's, Holy Rosary Cathedral, Christ Church Cathedral, St. Andrew Westleys Cathedral, St. Francis of Assisi, St. Francis in the Woods, Our Lady of Sorros, White Album Chapel, St. John's
TEACHING BIO
Mehlinda Heartt has been playing the Harp professionally for the past 35 years. She has been teaching Voice over the past 20 years and is presently teaching Harp at these locations:
'Celtic traditions School of Music' (Harp)
3721 west 10th Avenue, Vancouver, B.C
(604) 222-2299
www.celtictraditions.ca

'Mozart School of Music' (Harp and Voice)
6588 Royal Oak avenue, Burnaby, B.C
(604) 433-8433
www.mozartschool.com

Private lessons in students residence or at my personal residence also available. Please call for rates.
MUSICAL EDUCATION
University of British Columbia:
Study of Harp, Voice, and Composition.
Private Studies in Harp since 1977.
Opera Training program
Vancouver Academy of Music.
Orchestral Training 5 years

Vancouver Community College Music Program.
Voice and Operatic Training 1988-1998.
West Coast Opera Workshops.

AGENCIES EMPLOYED BY AND REFERENCES:
| | |
| --- | --- |
| Harpistry | 604.323.2344 |
| Siegal Music Agency | 604.736.3896 |
| Public Dreams | 604.879.8611 |
| Sassabrass Music Productions | 604.736.2153 |
| Whitefoot Agency | 604.266.7145 |
| Cantrav West Destination's Company | 604.879.0950 |
| Total Entertainment Network | 604.689.3457 |