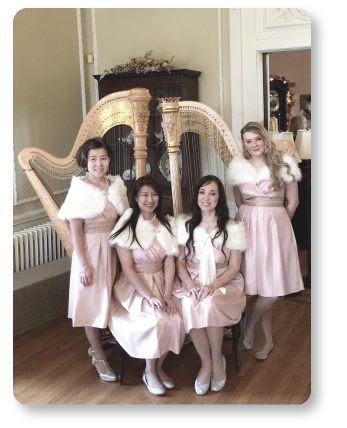 Bookings
Types of bookings available:
Wedding Ceremonies
Receptions
Corporate Functions
Funerals
Graduations
Anniversaries
Christmas Functions
Malls
Festivals
Wedding Ceremony
Harpist plays 30 minutes of Prelude Music before Processional begins and as guests arrive, during the Processional, Signing of the Registry, and Recessional. This are approximately 1 hour in length. Catholic weddings are 1½ hour in length.
Wedding Reception
Wedding and Reception Duos, Trios and Larger Groups
Ensemble Combinations include
Duos
Harp and Flute
Harp and Violin
Harp and Cello
Harp and Voice
Harp Duo
Trios
Harp, Violin and cello
Harp, Flute and cello
Harp trio
Large Ensembles
Hourly rates available, Please contact for a quote.